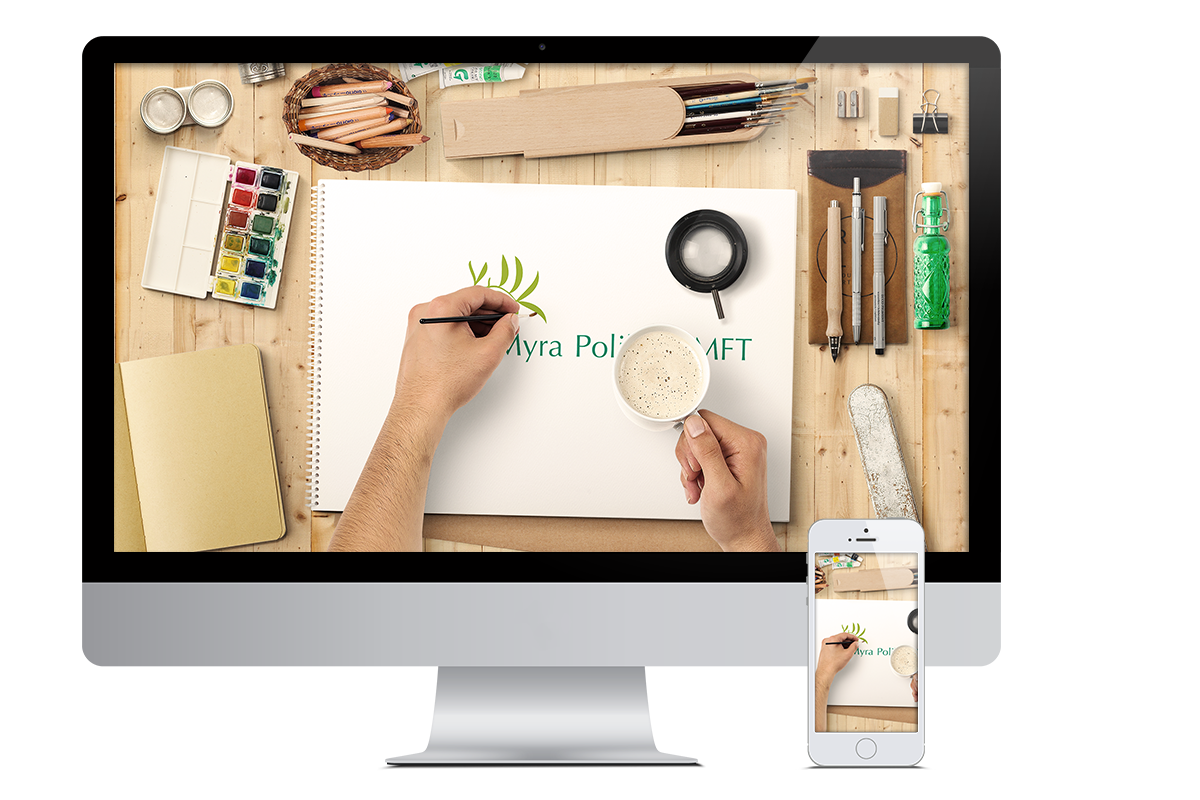 Want to be heard? Then make sure you are seen. The image you present is what the world believes about you. Pro graphics send a message that commands respect and seduces the viewer. Web People Media can guide your branding completely, or collaborate directly with you to realize your vision. The choice is yours.
Design is not just decoration
When we hear the word "design" it can conjure up images of little swirly-spiral doodles, flowery wallpaper, or at best, Salvador Dali's mustache! Of course, any of these can qualify as designs, but none fully captures the core principles of design.
The purpose of design is not mainly to prettify form, but to create a synergistic experience of form as beauty.
We do this in the same way that a sculptor turns a block of marble into a majestic statue, but in the case of web and print design, the marble is your message, your core business goals, and the path we seek to lead your viewer down. What we are eliminating is not extra marble, but complexity and geometric constraints.
Complexity and geometric constraints are introduced to your website by the software tools needed to add business functions, the multiple browsers users might view the content in, and a sea of other factors.
In print graphics (as well as online), complexity and geometric constraints crop up as a result of the cost, materials, and location of advertising space, as well as the tools we use to create graphics in the first place.
Web People Media uses state-of-the art Adobe creative tools to design the highest quality graphics, typography, and photo work for your project. Our design team combines years of training and experience in the entire Adobe suite of products, in fine art and composition, in typography—even in printing itself, so we understand what your printer needs.
We design down to every last detail, building on your brand with the right color and creative choices every step of the way. Web People Media doesn't settle for less than the best presentation of your brand, and you shouldn't, either.
A great design begins with great assets
Choose images from our recommended stock sources, or let us help you choose.
Choose colors based on your brand, your photos, or your favorites, and let us build a palette from those.
Choose from multiple fonts and icon sets, or choose a custom font, and let us design icons just for you.
Choose your print graphics format, or your WordPress web theme, and let us customize the look just for you.
Or, you can just give us your content and let us figure it out!
What can we say? Web People Media is where designs come to be born
We could go on and on, and maybe even get you over to our Facebook page to look at our selfies…
Or… You could just hop over to our portfolio to SEE WHAT WE MEAN.
"Money buys. Emotions sell."
If you don't believe design can affect your bottom line, you might have failed to notice the proliferation of Mini Coopers and Starbucks lattes, both of which net more dollars than the sum of their parts is worth. Who doesn't want a Mini? Why? because of their fetching design.
And design can not only build a recognizable brand image that gets you trust and buy-in, but it can even lead you into new markets while retaining your established ones. Think Apple. Think Amazon, or Google. These companies have built entire universes on elegant solutions to basic design problems.
Looking for a little more down home and practical way to get some return from your design investment?
Think process.
A great design process will give every idea you develop from that point forward a solid starting platform. This is why at Web People Media we design templates and layouts you can leverage for multiple projects, and assets that work in every space and size.
Integrity

100%

Choices

85%

Design

100%

ROI

96%
Highly recommended! Web People Media is an excellent choice if you want a custom WordPress website with more than just basic blogging features. They've designed four websites for me so far and I'm more than satisfied. Web People Media does it all, from helping you choose your customizable template to custom web forms and logins, email marketing, online training videos, ecommerce, integrating shopping carts, PayPal and QuickBooks, social media, photo editing, copy writing, branding, designing logos, video work, graphic design, writing code, SEO, etc.
- Kat L.
I will never forget the day I found Web People Media and Leha Carpenter. I think it might have been divine intervention. From the get-go, Leha understood and supported the larger context of my work at Lightcap Farm and Publishing Company. She built me a gorgeous website, redefining the limits and scope of WordPress as I understood it. More importantly, she efficiently taught me how to manage the site's day-to-day operations, something that is not intuitive for me. Now that I'm up and running, Leha monitors my site and intervenes and trouble shoots as necessary. She also helps me launch new projects within the site. Most recently, I've been working with Leha on the design for our first book. She is funny, savvy, patient, and wise. At this point, I can't imagine what work would be without her!
- Carolyn C.
Web People Media designed four highly customized WordPress sites, mobile websites and a blog for my businesses. They also designed logos, watermarks, t shirts, banners, twitter cards, business cards, fliers, and other business marketing items for our Cali K9® and California K9 Solutions® brands. We're extremely pleased with the quality of Leha Carpenter's graphic design and writing skills, WordPress training and website design, software technical know-how, and customer service skills. Highly recommended!
- Jas L.
Graphics
was last modified:
July 22nd, 2016
by