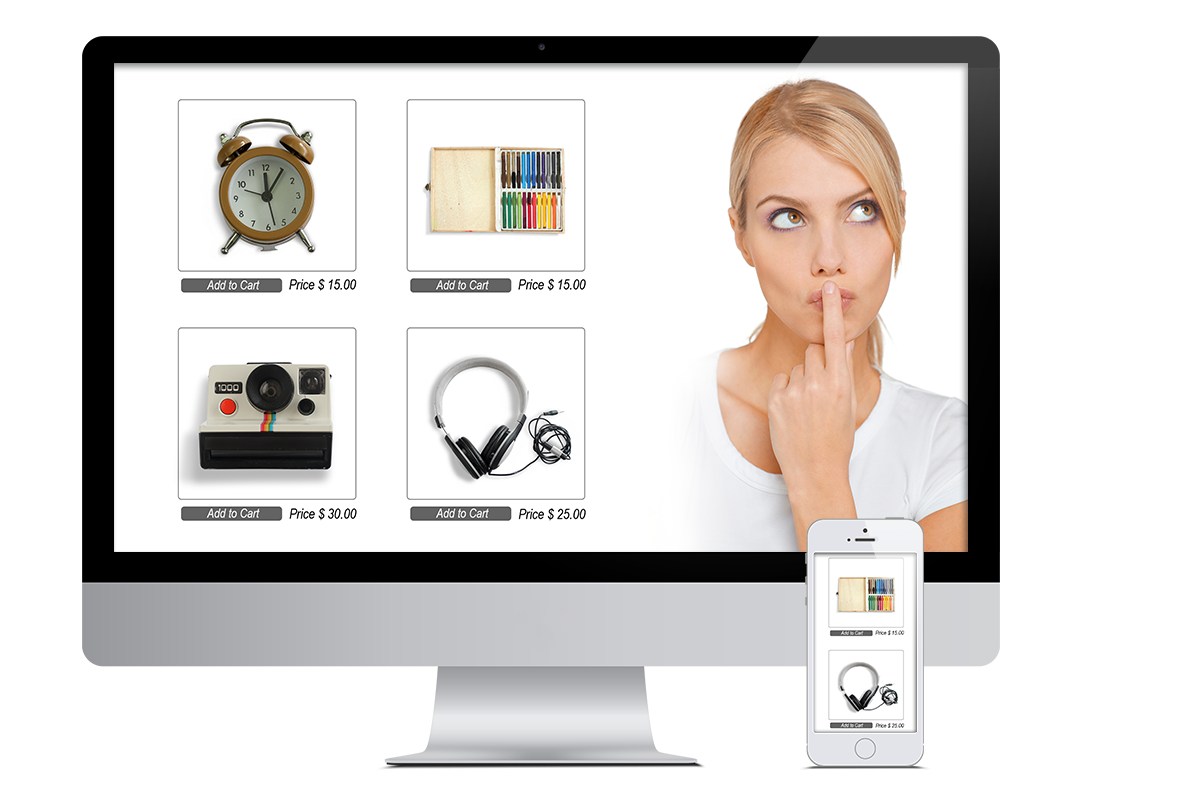 Need a shopping cart that looks great, works the way you work, and makes buying your products easier than falling off a log? Of course you do! Let's get that going…
Don't use a bulldozer where a trowel will do
If you're looking at pages about ecommerce it's likely because you have something to sell. And if you're lucky, that something is worth a lot of money, people will only ever buy one of them at a time, and the price of shipping is included—or better yet, the customer will come and pick it up at your store.
If you're not so lucky, you have a broad inventory of small-ticket items at various extremes of dimensions, they come in variations of size, color, and maybe some other options unique to the product, and they might or might not have to be refrigerated or otherwise specially-handled during shipping, which might or might not occur mainly in your country of origin. Oh–and some items are taxable, and some aren't–but only in some states!
Most businesses with something to sell fall somewhere between these extremes, but businesses with no prior ecommerce experience tend to all have one thing in common: they have little understanding of what's involved in having an online shopping cart, and high expectations with no clear strategy to support them. Don't be one of those!
Building an online shopping cart doesn't have to be a demoralizing experience, and it can be done, often with amazing results.
Web People Media can help you to evaluate what's involved in creating an online sales flow that works with your existing POS tools, and this is where you will want to start, because your choices here will define a process that needs to remain profitable for your business.
If you're the lucky one who only needs a Paypal button and a checkout page, then you don't want a full shopping cart with all the bells and whistles, because it's overkill. If you do need the full cart toolset, then Web People Media can help you set it all up and get it running correctly from the start, with full integration testing and the proper level of security.
Whatever your ecommerce needs, large or small, simple or complex, Web People Media will work with you to ensure you have the best-matched solution for your unique online store—one that frees up your time and makes you more profitable.
The wide, wide world of buy now buttons
Shopping carts are like wild animals: for every niche, there will be one specialized cart, and one generalist that does that and everything else. Which is best for you?
Web People Media can help you evaluate your goals and requirements and come up with a plan that has all the options you need—for now, and for the future.
Eye-catching product pages sell products—and raise margins
Understand that the way you display your products can and will have a huge impact on both sales and perceived value. Quality photography is something everyone assumes they have, and most do not. Web People Media can teach you how to ensure that all of your product shots display your offerings in their absolute best light.
Web People Media's designers will also ensure that your cart creates a pleasing shopping experience for your visitors that makes them want to spend their money with you, and makes it easy for them to do so.
From great product display, to seductive typography and calming, open design spaces, Web People Media will leave no detail unattended, so that you can be sure your shopping solution leaves no money on the table.
From many streams a great river
When it comes to conversions, it might seem that nothing could be more straight-forward than making a sale, but just because the basic concept is a no-brainer doesn't mean you should stop there. Web People Media is thinking about all of the ways you can build a long-term strategy for a steady river of revenue from the many rivulets that form of daily conversions.
Some of the options we will cover with you:
Customer retention
Targeted Offers
Ratings, reviews, and buyer community
Social media integration
Email marketing integration
Online chat and customer support services
Re-targeting and upselling
Automated customer guidance
Winning policies
Mobile experience
And more…
Ecommerce can create a powerful revenue stream when integrated with a full customer relations and marketing plan. Let's work together to create the right online shopping experience for your customers and start building on your future now.
Integrity

100%

Choices

98%

Design

89%

ROI

88%
Highly recommended! Web People Media is an excellent choice if you want a custom WordPress website with more than just basic blogging features. They've designed four websites for me so far and I'm more than satisfied. Web People Media does it all, from helping you choose your customizable template to custom web forms and logins, email marketing, online training videos, ecommerce, integrating shopping carts, PayPal and QuickBooks, social media, photo editing, copy writing, branding, designing logos, video work, graphic design, writing code, SEO, etc.
- Kat L.
I will never forget the day I found Web People Media and Leha Carpenter. I think it might have been divine intervention. From the get-go, Leha understood and supported the larger context of my work at Lightcap Farm and Publishing Company. She built me a gorgeous website, redefining the limits and scope of WordPress as I understood it. More importantly, she efficiently taught me how to manage the site's day-to-day operations, something that is not intuitive for me. Now that I'm up and running, Leha monitors my site and intervenes and trouble shoots as necessary. She also helps me launch new projects within the site. Most recently, I've been working with Leha on the design for our first book. She is funny, savvy, patient, and wise. At this point, I can't imagine what work would be without her!
- Carolyn C.
Web People Media designed four highly customized WordPress sites, mobile websites and a blog for my businesses. They also designed logos, watermarks, t shirts, banners, twitter cards, business cards, fliers, and other business marketing items for our Cali K9® and California K9 Solutions® brands. We're extremely pleased with the quality of Leha Carpenter's graphic design and writing skills, WordPress training and website design, software technical know-how, and customer service skills. Highly recommended!
- Jas L.
Ecommerce
was last modified:
September 27th, 2016
by